From yesterday, the 16th of February 2017, Smilegate Europe (Smilegate Games GmbH ) is officially handling the European version of CROSSFIRE to provide a local, more effective and, most importantly, more convenient service for European players. The NA version continues to be operated by sister company Smilegate West. The new CROSSFIRE team has already been actively working on new ideas and features for the past months. As one major step, following upcoming game updates and additional content, the CROSSFIRE team will, in the nearest future, launch a German version of the game. It will make German the second language available in the European client.
But the main focus for Smilegate Europe will be organising and participating in major eSports tournaments starting with this year's IEM Expo during the Intel® Extreme Masters World Championship 2017. The game tournament will take place on Saturday, March 4, 2017, during the second weekend of the fifth instalment of the IEM World Championship. The IEM Expo will be held from March 3-5, 2017 at the International Convention Center (ICC), neighbouring the Spodek Arena in Katowice, Poland. With its participation at IEM Expo, Smilegate broadens CROSSFIRE's international scope and continue its development as an eSports title.
Here are the teams and tournament information for CROSSFIRE IEM Expo Invitational!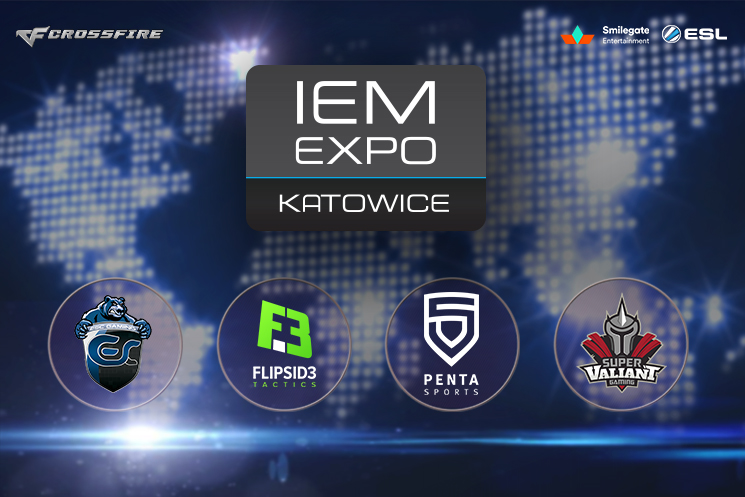 TEAMS
SuperValiant Gaming (China)
Players: MZiN, 18, 4mE, DAOBOQ, N9
Formerly known as Vici Gaming, SuperValiant(SV) makes a fresh start in 2017 with a new company. SV, composed of the best players in China, took the championship in 2016 CFS Grand Finals. MZiN and 18 are legendary Crossfire sniper and attacker, and have shown dominant performance in both Chinese and international scenes. N9 is known for having the best aim in China, and DAOBOQ is the only member in the team who has consecutively won CFS 2015 and CFS 2016. Lastly, 4mE is a veteran who has been playing Crossfire professionally for 7 years now. Let' see if SV can continue their success in the CROSSFIRE IEM Expo Invitational.
FlipSid3 Tactics (Europe)
Players: SEVEN, phaze, Snox, Denis, KREEDZ
A famous name in CF Europe, 'FlipSid3 Tactics' is a very young team that already proved their name in 2016 by taking 2nd place in the CFS Grand Finals. The leader Luca 'SEVEN' Bayati is a good motivator and knows how to adapt to his opponents. Snox is considered as one of the best aimers in Europe, with past experience in teams like ESC and TeraGaming. KREEDZ recently joined the team, and is known for his great aim and movement. Also, phaze is the most experienced CFS player in Europe, known for his sniping skills. DeNis, the youngest player in the team, has quick movement and is considered as a key player in the team. Together, they make a strong team with a goal to take the glory in the CROSSFIRE IEM Expo Invitational.
PENTA Sports (Europe)
Players: nLs, Loones, MooN, ReijN, bL4ME
PENTA Sports is a famous and a successful team in the European region. After starting out as an underdog in the scene, they qualified for their first CFS Grand Finals in 2014, and managed to secure another spot for the CFS Grand finals in 2015 and WCA 2015 Grand Finals. The team successfully placed 4th at CFS GF 2014, 2nd at CFS GF 2015 and 3rd at CFGI 2016. Loones, nLs, ReijN and bL4ME have been playing for almost 1 year together. bL4ME and ReijN have the best aim, and nLs and Loones manage the tactical play style of the team. Newcomer MooN is a talented player who can take the sniper role in the team. PENTA has their eyes set on becoming the best in both Europe and the international scene.
ESC Gaming (Europe)
Players: LionClaw, Nova, Nartex, FLEXX, Scorpzz
ESC Gaming was formed early 2016 (previously Team Cursive) and have won the first season of the Crossfire Competitive League (UK). After an upsetting defeat by FlipSid3 Tactics in the semi-finals CFS 2016 Europe National Finals, part of the team decided to quit. However, the core of the team—Nova, Lionclaw, Nartex—was dedicated in rebuilding their team. Nova and Lionclaw are known for their amazing and fast aim, and Nartex is their indispensable support and solid clutcher. They acquired Scorpz the aggressive and versatile sniper and FLEXX, a very aggressive entryfragger who has proven himself many times both in Europe and on international events. The team now exists of players who have been around for a long time and are respected by the community. ESC Gaming seeks to represent Europe in the best possible way in the CROSSFIRE IEM Expo Invitational.
TOURNAMENT FORMAT
CROSSFIRE IEM Expo Invitational will be held in BO1 Double Elimination format, with a BO3 final.
PRIZE
1st Place: USD 7,000
2nd Place: USD 4,000
3rd Place: USD 2,000
4th Place: USD 2,000
Let's see who will take the glory on March 4, 2017 at CROSSFIRE IEM Expo Invitational!
Meanwhile, check out the CROSSFIRE IEM Expo Invitational teaser!